40 Foot Trailer Mounted Mini Stadium Light Tower
Boss Portable Lighting offers safe explosion proof lighting, general floodlighting, light towers, and power distribution solutions.
40 Foot Trailer Mounted Mini Stadium Light Tower
High-Intensity, Telescoping Light Tower With Safety Features
Patented – U.S. Patent 10,393,324
8 x 1000 Watt Metal Halide floodlights mounted on a 40′ telescoping tower as shown in the photo on the left. Light fixtures can be rotated up to 360 degrees. These floodlights are protected with a high impact resistant glass lens and are weatherproof rated. Light Performance: Total lumen output per system is 880,000 lumens. Fixtures can be adusted in any direction horizontal or vertical. 360 degree rotating light head fixture is optional. Tower: 1500lb electronic winch telescoping tower with safety features included to prevent operator error while in use. High wind speed monitor will lower the tower at wind loads of 45mph.
Generator: This 40′ light tower comes equipped with a 25kva, 120/240 Volt or 480v, 1ph, 60hz generator. This gen-set is a water cooled diesel engine equipped with safety shutdown features. Auto start and stop feature is optional upon request. Fuel Tank: 42 gallon tank with a run-time of 48 hours. Control Panel: 1 – 20amp, 120v GFCI duplex and 1 – 50amp, 125/250v RV receptacle, key switch start/stop, hour meter, and tower controls. Trailer: 12.6ft long x 4.6ft wide x 6.6ft tall. Trailer comes equipped with four stabilizing jacks for leveling, 3″ hitch ring, and is DOT approved for towing. Weight: 2300lb total operating weight.
Wind Speed Loads: 60mph at 40ft.
Learn more about hazardous location ratings with our simple classification and ratings sheet.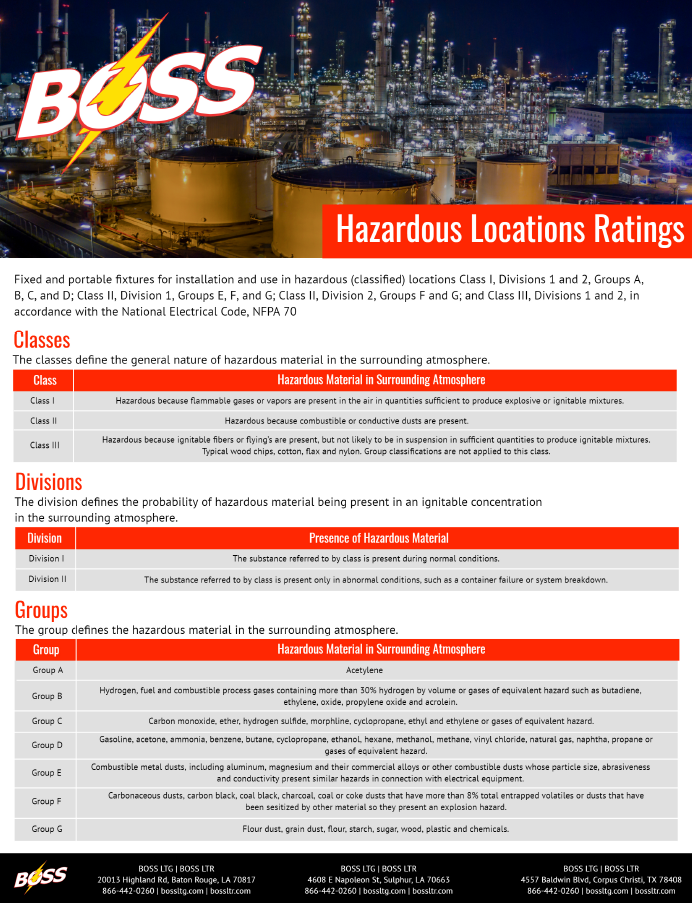 View More Boss Portable Light Towers, Mini Stadium Light Towers, and Stadium Light Towers
Boss offers industry exclusive light towers for multiple industries: industrial turnarounds, new construction, strip mining, concrete pours, hydroelectric dams, highway construction, sporting events, special events, and more!