39 Watt LED Explosion Proof Light Cart Mount (Copy)
Rated for use in tank and vessel cleaning, marine applications, industrial coating, sandblasting, inspections, and more.
Product Application Features
Application Use and Product Description
This 39 watt explosion-proof LED floodlight is rated for hazardous and wet locations for use in chemical plants, marine environments, tank and vessel cleaning, drilling rigs, coatings, sandblasting, refineries and other hazardous locations. LED technology increases efficiency, eliminates maintenance and supports green initiatives. It's constructed with a marine grade aluminum shell, cover and sealed fittings, and the threaded joints are lubricated with non-drying petrolatum. This heavy-duty and durable light is ready to withstand the harsh conditions and elements in any of the locations mentioned above.
UL Certifications, Ratings, and Classifications
UL 1598 Ordinary Locations
UL 1598A Marie Outside Type (Saltwater)
UL 844 Suitable for Hazardous Locations
Class I, Division 1 Groups C & D
Class II, Division 2 Groups A, B, C, & D
Class III, Divisions 1 & 2
NEMA 4x
CSA C22.2 No. 250.0, 94.0, 213.0, 137.0, 30.0
General Specifications
Single 39 watt LED floodlight/spotlight with 100′ power cord, in-line GFCI, 5-15P WP plug, and is available in 120 volts. Click here for more in-depth specifications.
Light Projection
100′ light projection with a 90 degree horizontal beam spread and 2,540 lumens delivered.
Mounting Presentations
The cart mounted presentation is powder coated in safety yellow with non-sparking material. All Boss manufactured cart mounts with the 39 watt LED fixture are designed to fit through a 36″ manhole. Boss now offers over seven different mounting presentations for this LED explosion proof light. For special projects and mounting application requests, we may be able to accomadate your special projects. Please don't hesitate to ask about additonal options.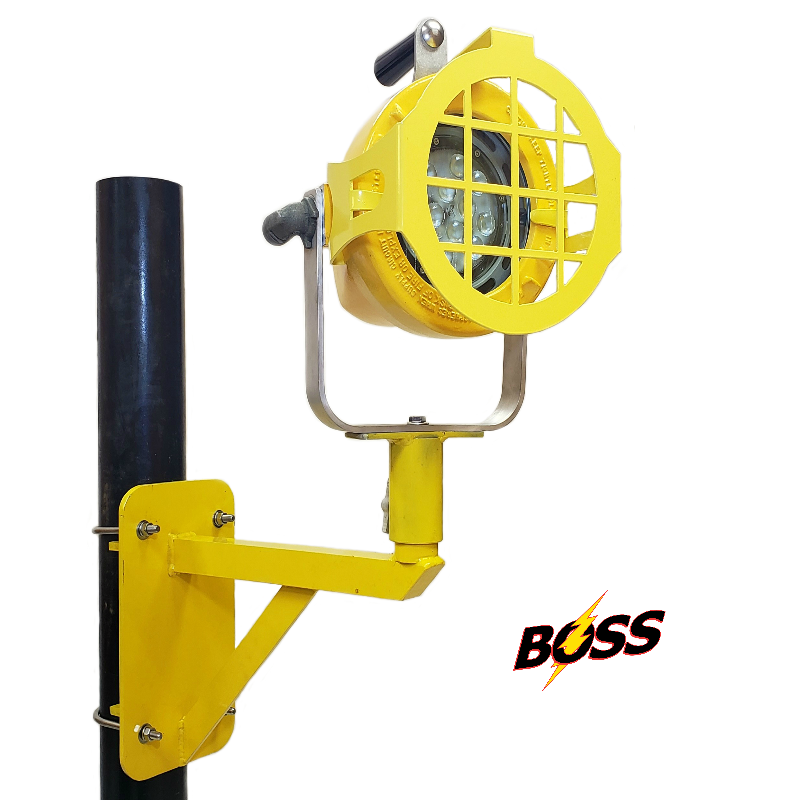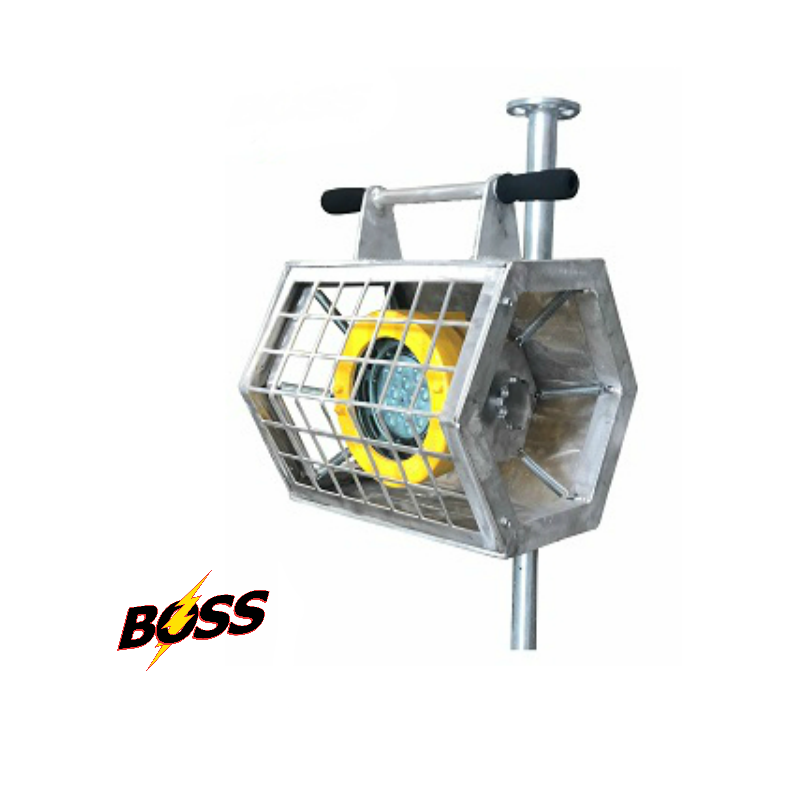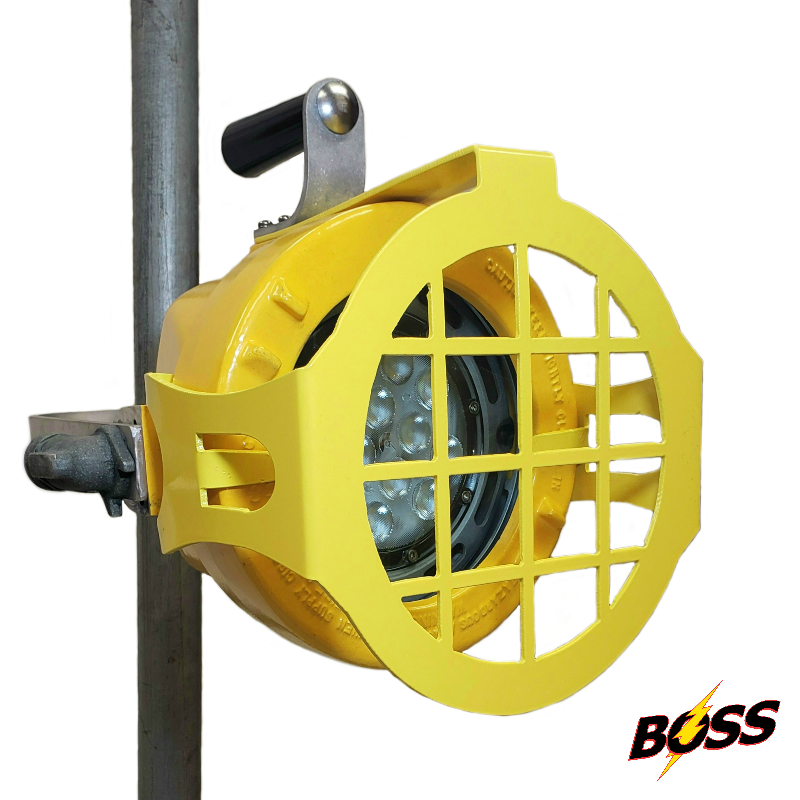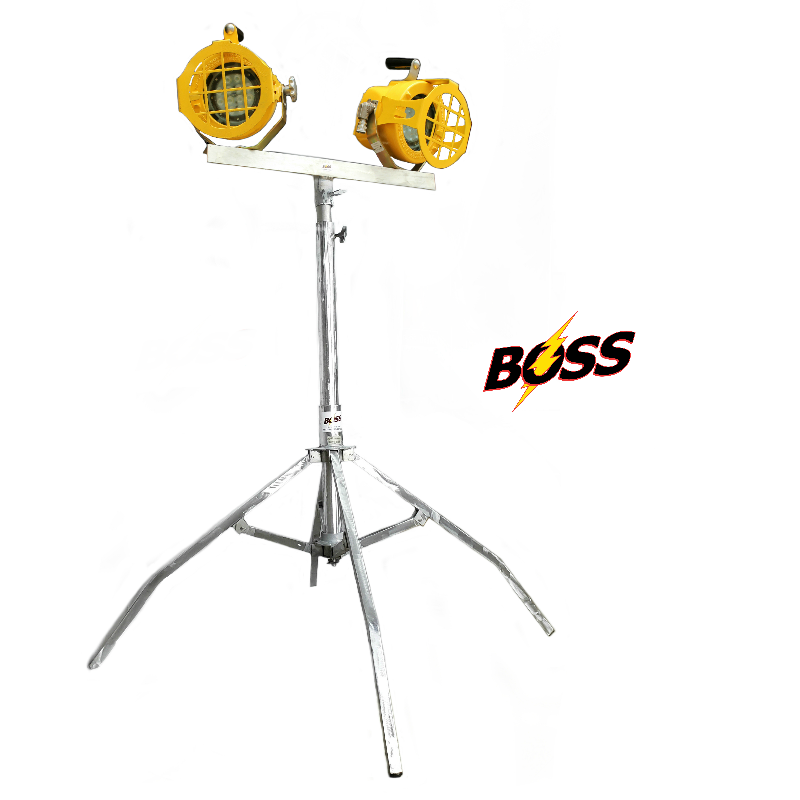 View More Explosion Proof Lighting Products – 39 Watt LED Light Fixture Presentations
Boss offers LED, incandescent, and fluorescent portable explosion proof work lights, task lights, and speciality built applications. View our selection of hazardous location explosion proof lighting below:
Explosion Proof Lighting – 39W Explosion Proof Light
Explosion Proof lights or Explosion Proof Lighting applications, also known as Hazard Location Lighting are UL certified and compliant with OSHA Safety Standards. This certification makes them safe for use in areas where flammable vapors and/or pulverized dust exist or have the potential to exist. Universal industries include lighting options for refineries, petrochemical, steel mills, grain silos, sugar mills, offshore marine, and other hazardous location areas. 
Class 1 lights are UL rated and certified for confined space entry and are typically used for cleaning/inspecting vessels or fuel cells, plant turn-around, marine work areas, paint booths, etc. Class 2 rated lights are typically used in areas that have grain, sugar or munitions.
Learn more about hazardous location ratings with our simple classification and ratings sheet.